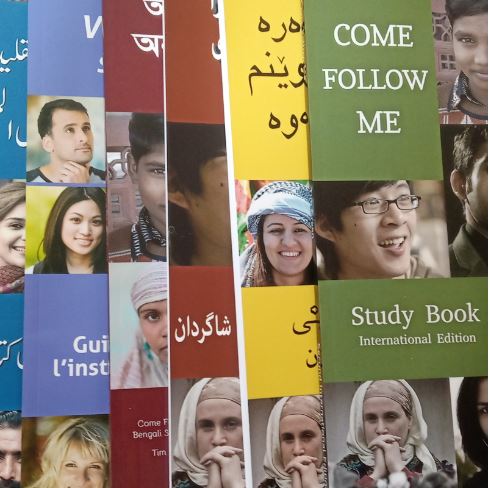 Come Follow Me is a discipleship course written specifically for new believers in Jesus from a Muslim background. It is relevant to the issues they face, is rooted in inductive Bible study, and is designed to be used in a regular, relational way (1:1 or in a group). It is also reproducible, so that those who complete the course can use it with others in turn. The course is available in multiple languages (including Arabic, Dari, Farsi and more) and can be accessed in print form or in digital form via the Growspace Learning Platform.
Website: …
How This Works
Use within the GrowSpace e-learning platform for smartphones and other devices. The GrowSpace platform has been used to publish Come Follow Me, Abundant Life and Big Picture in a digital, secure, multilingual, interactive format. GrowSpace is designed to facilitate learning in group settings but can also be used for 1 to 1 discipleship. GrowSpace can only be accessed via a user account. Learners have to be given access by an advisor to ensure security of accounts especially for sensitive contexts. Advisor accounts can be purchased individually or through an organization.
Finer Details
Financial cost: Come Follow Me on the web-app is much cheaper than ordering the books and is much more convenient and accessible worldwide. As part of an organization subscription, you can have access to multiple advisor accounts, with no limit on the number of learners. For the latest costs please see https://word.org.uk/growspace/
Scripture stories included: … based on 1 Peter, but draws on other scriptures throughout.
What personnel are needed to bring this resource to fruition, (make the resource available in another language)?
Translators
What sort of logistical setting is needed? (e.g. quiet space for recording, good Internet access)
The web-app does require internet access for initial set up and then works with minimal internet bandwidth. It can be used offline once each lesson is downloaded.
How long does it typically take to watch, read or otherwise engage?
Each lesson of the course takes the student 30-60 minutes to complete, and then should be followed by a 1 to 1 or group discussion led by the advisor.
What level of help is available?
Advisors are given initial introductions and help videos and instructions are available.
Advisors should be able to help their students through any minor issues. If there are any other problems they can contact us through the Come Follow Me website for help.
How To Get Started
Ideally Advisors should go through an advisor training (on zoom or it can be completed locally in a small group), but an experienced group leader can pick up the resource and lead it well by using the advisor's guide. The advisor's guide is available for free download on our website (come-follow-me.org), or it can be purchased through the Word of Life shop.