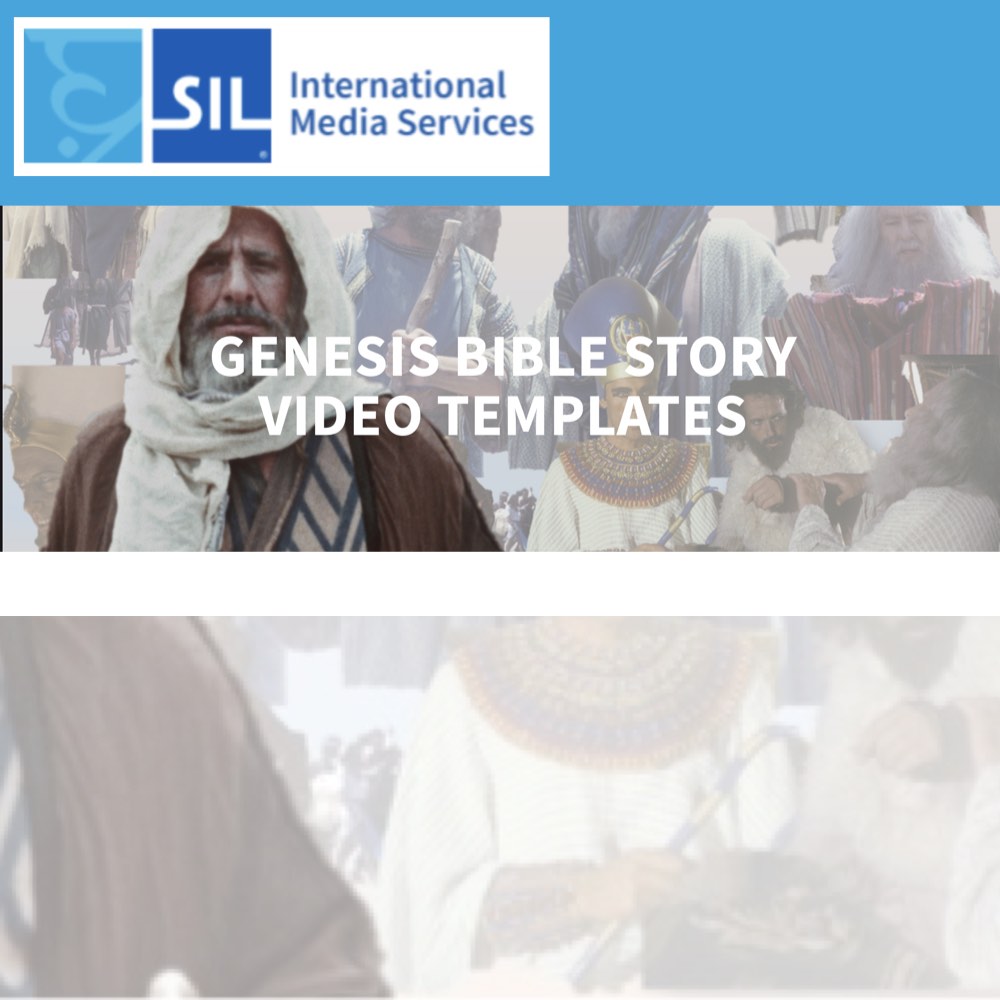 The Genesis Bible Story Video Templates offer the resources to create reenactments of 15 stories about the patriarchs Abraham, Isaac, Jacob, and Joseph. International Media Services (IMS) offers the scripts, templates, music, and software needed to create still-picture videos in local languages. This resource has been used by translators and Scripture engagement field teams. It is a more economical method for producing a video than the typical dubbing method. It uses high quality photos taken during the creation of the Genesis video.
If your community needs Scripture content and background about the early history of the Israelites, this product may be an excellent fit. Creating the videos will provide opportunities for meaningful discussions and community checks on clarity and key terms. The process of translating the stories provides good hands-on involvement and helps people learn the stories. The scripts include Scripture references for each block of text. The stories are available in several major languages (English, Spanish, Portuguese, French, Korean, and Tagalog). These versions have been consultant checked. You may be able to use a video in a major language in your area as a source from which to translate the script into the language(s) of your community. It is strongly advised that the translated versions be checked by consultants as well.
Website: Genesis Bible Story Video Templates
How This Works
The Genesis Bible Story Video Templates are restricted to approved language projects. To request approval for your language project, please contact IMS and complete the online application form found on the IMS website. Once approved you will receive a link to download these resources for free directly from IMS.
Scripts can be translated and recorded in PhotoStory 3, a software slideshow video maker that is available for free on the IMS website. These templates are already set up with images and music (though local music can be used instead). You will need to create these videos on a Windows computer.
Finer Details
Financial cost: Free
Scripture stories included:
Abraham – God's Call and Covenant Part 1
God's Covenant with Abraham Part 2
God Tests Abraham
A Wife for Isaac
Jacob and Esau
Jacob Tricks His Brother
Jacob's Trip to Haran
Jacob Returns to Canaan
Jacob Meets Esau Again
Joseph the Dreamer
Joseph in Egypt
Joseph in Prison
Pharaoh's Dreams
Joseph Rules in Egypt
Joseph Reunites with His Family
Scriptures used or referenced: Genesis 12, Genesis 15, Genesis 22, Genesis 24, Genesis 26, Genesis 30, Genesis 34, Genesis 37, Genesis 38, Genesis 39, Genesis 40, Genesis 41, Genesis 42, Genesis 43, Genesis 44, Genesis 45.
Translation Method: Translate the text in the script (from one of the major languages mentioned above) which can then be recorded directly into Photostory3. The video automatically adjusts to the length of your language;
What kind of technical expertise is needed to adapt this resource to your situation?
The templates are for PhotoStory 3. A very easy instructional video is available which anyone with basic computer knowledge could understand. Basic knowledge of Microsoft Windows and either PhotoStory 3 Software or another slideshow to video software (iMovie, Movie Studio, Photostage, etc.) is recommended, but not necessary.
How much time is required to do all the work required to bring the resource to completion?
Huge variation depending on the situation.
What sort of logistical setting is needed? (e.g. quiet space for recording, good Internet access)
A Windows Computer and USB microphone is needed along with PhotoStory 3, free software downloadable from the IMS website.
What challenges or difficulties are there using this resource?
The website has an assistance page which answers all the possible technical questions about Video Templates. A Quick Start Guide is also available here.
How to Get Started
Locate all software, directions, images, music, scripts, and templates on the IMS website. Go to the website to start the online application process.