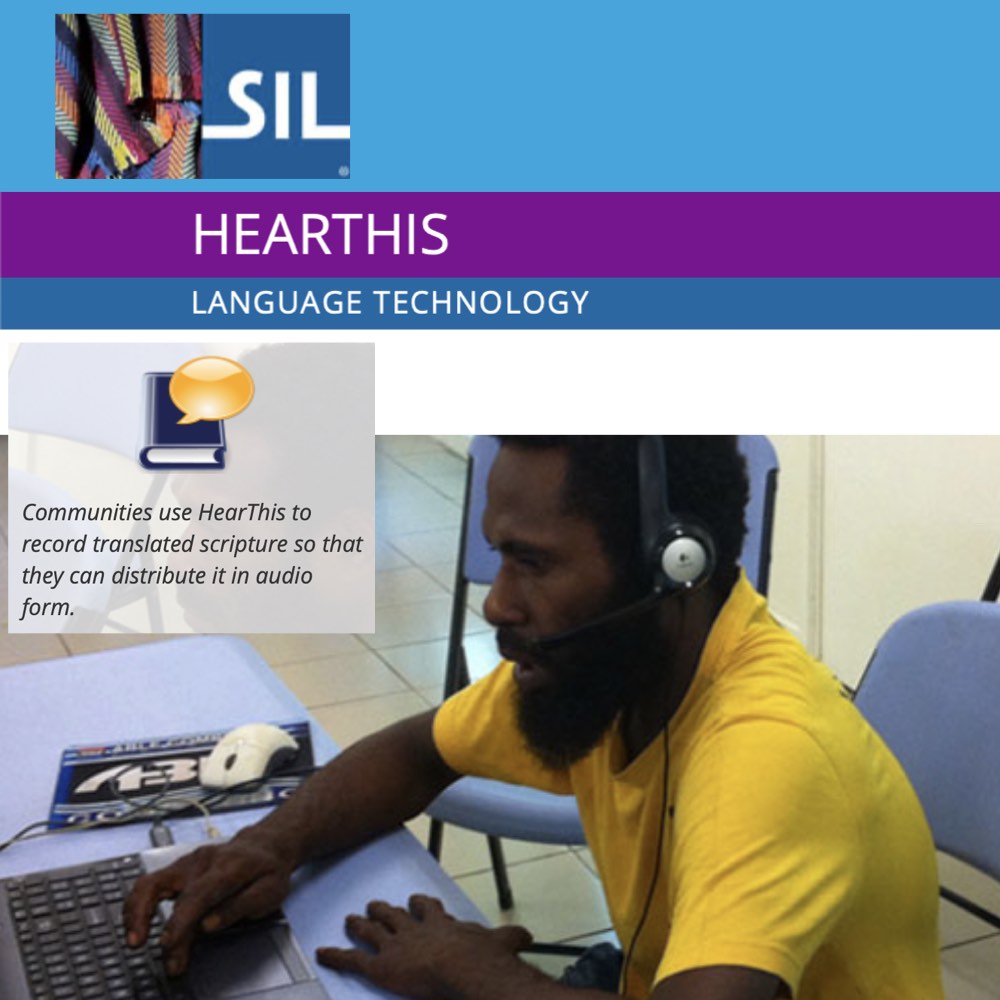 Using HearThis, communities record and distribute their translated Scripture themselves, making Audio Scripture available in their own languages, without waiting until technicians can come to run recording sessions.
Website: SIL
Finer Details
Financial cost: Free
Scripture stories included: …
Scriptures used or referenced: …
What personnel are needed to bring this resource to fruition, (make the resource available in another language)?
Voice actor(s), competent computer user
What kind of technical expertise is needed to adapt this resource to your situation?
A facilitator needs to be a competent computer user, but HearThis is designed to be used with minimal training by recordists who have never used a computer before. Expertise required for distribution will depending on the plan. HearThis can export files ready to upload onto various dedicated Scripture devices as well as a folder that can be pulled into Scripture App Builder.
How much time is required to do all the work required to bring the resource to completion?
1 month to 1 year
What sort of logistical setting is needed? (e.g. quiet space for recording, good Internet access)
A quiet space for recording is ideal. A single laptop or desktop computer with a good quality microphone can be used for all recording. Or recording can be done simultaneously by multiple recordists using Android devices (using HearThis for Android).
How long does it typically take to watch, read or otherwise engage?
Depends on the amount of Scripture recorded. (HearThis can be used for small portions or entire Bibles.)
What challenges or difficulties are there using this resource?
Some computer expertise and knowledge of recording is useful to set up the project and recording environment. Beyond that, it is fairly straightforward for most projects. (As with any software, there can be problems that require tech support.)
What level of help is available?
Advanced – a ministry could be there to support you with workers and partnership.
What particular themes are included that might be a 'bridge' to a target audience?
Unique Characteristics
No more waiting. Using HearThis, communities record and distribute their translated scripture, for themselves. They don't wait until the translation is all done, or wait until they are fluent readers. They don't wait until technicians can come and run recording sessions. They make Audio Scripture available in their own languages — today!
Learning to record with HearThis takes only minutes.
*Works with Paratext – HearThis automatically gathers text from Paratext. If you don't have Paratext, that's OK too.