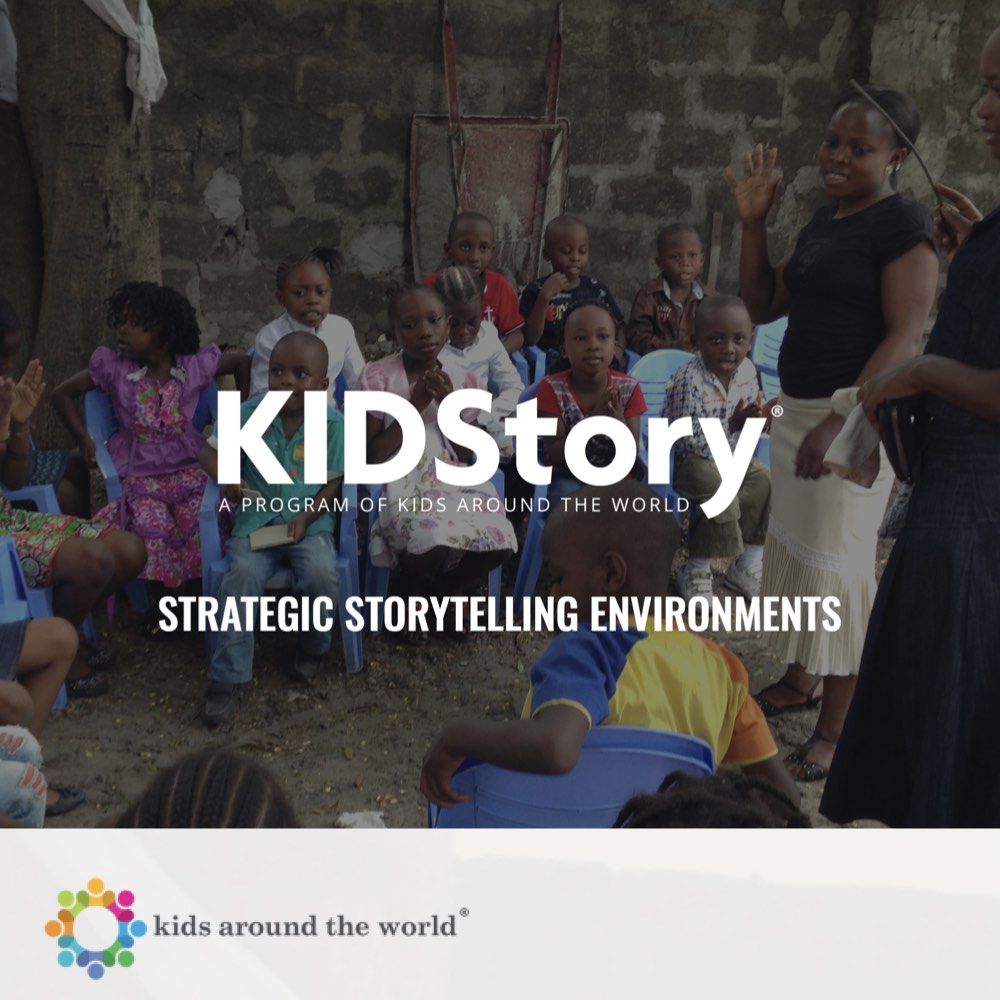 Do you see a need to recruit and equip leaders to disciple children effectively, using methods that work best for children? KIDStory is a strategy for reaching and disciplining children in God's Word, capturing their hearts and minds with God's truth and love. KIDStory uses a teaching format that is simple, fun, empowering, transforming, and easily reproducible in all cultures. The stories of the Bible are told in fun, creative ways, while remaining Biblically accurate. As important as it is to tell God's story, it is not enough. It is also about listening to the Holy Spirit and listening to the child reveal how the Spirit is stirring their heart. Transformation takes place in a relational learning environment.
Website: Kids Around the World
This May Be a Good Tool For Your Community If:
If you desire to train leaders in children's ministry, this is a good methodology to use. It involves a flexible approach which has proven effective in both rural and urban communities. It has been successfully used for:
Children's church
Sunday School,
family devotions
StoryClubs
VBS
short-term outreach
How This Works
The KIDStory team is passionate about training leaders, creating environments, and providing resources whereby children are transformed by learning who God is, who they are, and how to have a real and personal relationship with Jesus. The process is interactive, simple, transformative, fun, and reproducible in all cultures. The core essentials of KIDStory are:
Bible Centered – The core of every lesson is the Bible story. Everything continually comes back to the story and discovering who God is and how to follow Him.
Fun – Creating an environment of laughter and fun engages children and helps them apply truth to their lives. Children want to come back and bring their friends with them.
Reproducible – Leaders are empowered to show others how to use this simple and practical approach, and children can retell the Bible stories to family and friends.
Relational – People of all ages have a God-given need to be known. Children need others to engage with them and hear what is stirring in their hearts. Leaders need ongoing support both in ministry and personally.
Spirit-led – The Holy Spirit is the teacher and the One who transforms a life. Jesus promised that the Holy Spirit would reveal all things, so it is critical to listen and move in the direction the Holy Spirit is leading.
KIDStory Workshops engage participants in Scripture while they learn to share the Gospel with children. Dynamic storytelling directly from the Bible, supported by play, games, music, and drama, captures the minds and hearts of adults and children alike. Relying on the Holy Spirit, workshop participants learn the importance of listening rather than lecturing. They practice modeling Jesus' method of telling stories, providing interactive experiences, and provoking meaningful reflection. Questions and interactions are not just for information, but are for Holy Spirit transformation of the heart and mind. Due to KIDStory's simplicity and interactive nature, workshops can be offered in specialized areas related to trauma, play therapy, family devotions, etc.
Finer Details
What personnel are needed to bring this resource to fruition, (make the resource available in another language)?
One trained person can start a StoryClub. One workshop can start a movement!
How much time is required to do all the work required to bring the resource to completion?
A KIDStory Basic Workshop provides one day of training. Advanced training is available (for example, a 5-day Advanced Workshop was held in Ethiopia, October 2018, with SIM and Reach Global).
StoryClub development varies according to needs, personnel, and resources, such as the availability of audio Scriptures, culturally appropriate musical, artistic, and instructional creativity, and experience. Much of the development is done as part of weekly lesson preparation, dedicating approximately one day per week.
What challenges or difficulties are there using this resource?
Multilingualism or use of a language of wider communication (instead of Scriptures in the traditional language)
Expectations about education: reading and writing vs. oral methods
How to use Scripture audio or video recordings in lesson preparation
Adequate practice with the tools for internalizing and retelling Bible stories
Experience selecting or creating games, music, drama, and reflection questions for each story
What you can expect from a KIDStory Workshop:
Fun, interactive ways to hear, learn, and retell God's Word.
Active storytelling that encourages participation in unexpected and inspired ways.
Story retelling that captures the attention of even the youngest listeners, through play, visual art, music, and drama, and enhances their critical thinking skills.
Proven ways to facilitate discussions that provoke heartfelt conversations rather than rote, predictable answers.
Repetitive games that help develop the ability to recall information and retain it for future use.
Oral-based methods that are easily reproducible in all cultures.
Understanding of learning environments where children are transformed into active participants in God's story, not just distant observers.
Exploration of various purposes that KIDStory can serve: StoryClubs, family devotions, leadership training, discipleship training, coaching and mentoring, trauma healing, basic life skills, short-term outreach, VBS, etc.
How To Get Started
Visit our website.
Not a Good Fit? You May Want to Consider One of These
AWANA
Healing Hearts Club
Bible Battalion
Christian Life Skills